Hosiwell Networking Cabling Tester-With Report Function
Model : Hosiwell Networking Cabling Tester-With Report Function
Q'ty: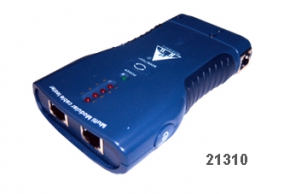 Hosiwell Networking Cabling Tester - With Voice Report Function
As a premium network cable & equipment supplier, Hosiwell supplies Networking Cabling Tester product in best quality.
Application & Hosiwell Unique Features
Integrated LED display and sound report, you can get the cable wiring test result even close your eyes. This is the special for this tester.

Function Select :
Switch on the power ana the green LED get light. Push and hold the bottom "MODE/TEST", the test function will cycle and informed with voice: UTP, FTP, 2 line telephone, 4 line telephone, USB, BNC. While you hear what you need, release the bottom, then you can do the test.
Plug in the cable to "MAIN" port and "LOOPBACK" port. Push the bottom "MODE/TEST" less than 1 second. If you want to test the remote point, plug in the cable to "MAIN" port and "Remote Terminal" port.
| | | |
| --- | --- | --- |
| Part No. | Description | Brochure |
| 21310 | Apply for UTP, FTP, TEL-2, TEL-4, USB (A/A) (A/B) and BNC continuity test. | ยังไม่ได้อัปโหลด |
| 21311 | Multi Network Wiring Detector | ยังไม่ได้อัปโหลด |