Hosiwell Cat.6 19" Rack Mount Patch Panel
Model : Hosiwell Cat.6 19" Rack Mount Patch Panel
Q'ty: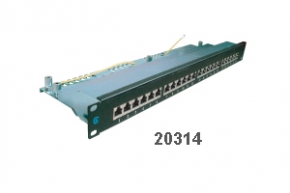 Hosiwell Cat.6 19" Rack Mount Patch Panel
As a premium network cable & equipment supplier, Hosiwell supplies Cat.6 19" Rack Mount Patch Panel product in best quality.
Application & Hosiwell Product Specifications
A patch panel is a panel, typically rack mounted, that houses cable connections.

One typically shorter patch cable will plug into the front side, while the back will hold the connection of a much longer and more permanent cable.

Patch panels offer the convenience of allowing technicians to quickly change the path of select singals, without the expense of dedicated switching equipment.

Cat.6 19" Rack Mount Patch Panel EIA/TIA-568-B.2 Cat.6 compliant, high density design,

With RJ45 port and liable system, universal wiring for both T568A and T568B,

Suitable for conductor size 22, 24 or 26 AWG terminated,

Dust covers of IDC are available for protect purpose, black mounting screws and cage nuts are supplied for install use.
| | | |
| --- | --- | --- |
| Part No. | Description | Brochure |
| 20314 | 24 Port Shield Type | ยังไม่ได้อัปโหลด |
| 20322 | 16 Port Standard Type | Download >> |
| 20323 | 24 Port Standard Type | Download >> |
| 20324 | 32 Port Standard Type | Download >> |
| 20325 | 48 Port Standard Type | Download >> |
| 20361 | 12 Port with Cable Arrangement | ยังไม่ได้อัปโหลด |
| 20362 | 16 Port with Cable Arrangement | ยังไม่ได้อัปโหลด |
| 20363 | 24 Port with Cable Arrangement | Download >> |
| 20364 | 48 Port with Cable Arrangement | Download >> |
| 20366 | 12 Port Modular Jack Type with Cable Arrangement | ยังไม่ได้อัปโหลด |
| 20367 | 16 Port Modular Jack Type with Cable Arrangement | ยังไม่ได้อัปโหลด |
| 20368 | 24 Port Modular Jack Type with Cable Arrangement | ยังไม่ได้อัปโหลด |
| 20369 | 48 Port Modular Jack Type with Cable Arrangement | ยังไม่ได้อัปโหลด |